Happy Wednesday guys, AKA hump day! I woke up to it snowing and couldn't believe it! This past week has been crazy busy with school starting and getting back into the swing of things but more importantly, I had recruitment all weekend long! Last night was bid night, and for my girls who are familiar with this then you know the whole deal otherwise for my girls who don't know, I will be doing a whole post on that topic later. For now, I wanted to share different ways with you guys in how I accessorize my outfits for recruitment.
 Each day of recruitment depending on the theme or color scheme has different criteria sooo that being said it's really important to put your own spin on things!
The first day was very simple, white t-shirt, jeans and, white sneaks but OF Course I couldn't just wear any jeans and any plain white sneakers so, I wore these sevens here 7forallmankind that flared out on the bottom with my new white platform sneakers  Kendall and Kylie that I bought at Bloomies for a ridiculous good price. I accessorized with gold jewelry and made sure I wore my fave hoop earrings with my Hermes bracelet as well.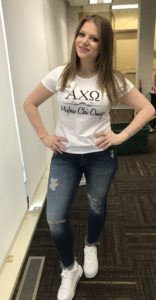 Also guys, always remember if you have to wear plain t-shirts, with solid jeans, make sure you accessorize with belts, and fun jewelry, this way you make your outfit your own and you stand out 🙂 As always, Have a great Wednesday!
XO Mainfashionista